As many of you may know, Pyrex (the long-lived favorite of the American kitchen) is turning 100 this year. If you're like me, you still use your tried and true Pyrex baking and storage dishes regularly and have no thoughts of retiring them anytime soon. If you're also like me, you own a classic piece or two that is way out of date, but somehow whipping it out for church potluck or special events always floods your heart with good memories . . . especially if you grew up in a family where your mama sure knew how to cook (and did).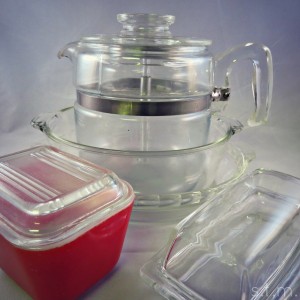 In celebration of the "Big Hundred," Pyrex is putting on their party hats and blowing the horns with a nation-wide measuring cup tour and great giveaways during the next few months. If you want to get in on the action, visit their site to enter and see where they might show up next.
Now for the real fun! In fabulous birthday fashion, Small Talk Mama is hosting a "Show Us Your Pyrex" party right here for the next few months. Take photos of your favorite Pyrex and post them at the linked party below so that we can all admire and covet what you have in your kitchen.
So I guess this is where I'm suppose say, "I'll show you mine, if you show me yours."
Loading InLinkz ...