Welcome to a Secret Subject Swap. This week, 16 brave bloggers picked a secret subject for someone else and were assigned a secret subject to interpret in their own style. Today we are all simultaneously divulging our topics and submitting our posts.
My Secret Subject is:
What is your best and/or worst Memorial Day memory?
It was submitted by: www.southernbellecharm.com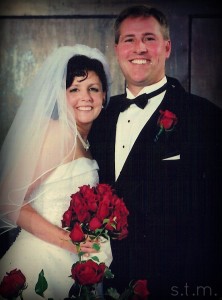 Oh shucks, this is such an easy one for me. You see, my husband and I of almost 12 years now tied the knot on Memorial Day weekend 2003. That, and the only other Memorial Day that sticks in my head was a crazy girls trip to Padre Island after high school graduation. . . but my husband may not appreciate it if I didn't put him tops on my list. Just kidding, babe; you know you're number one.
Although we married a bit later in life than most, we only managed a long weekend for our wedding and honeymoon both, because my husband-to-be had just taken a new job and hadn't earned a lick of vacation. Of course that didn't stop fools in love, and after a February proposal we promptly set a date for Memorial Day weekend. Let me tell ya, my mom and I can execute a wedding like nobody's business and three months was a (semi-) breeze.
We married in a little white church in Farmington, Arkansas, and had the reception outside under a tent. The morning was filled with thunderstorms and lots of rain, but somehow the sun came out early enough to dry the ground but not enough to raise the temps. As it turned out, it was a perfect day for a wedding, especially when you're the one getting married.
After the ceremony we drove through crazy dense fog to Roaring River in Missouri for a weekend getaway together. The trout fishing wasn't fabulous, but we didn't really much care. Hmm, maybe my new husband cared at the time, but he didn't let on. I won't tell you about the big fish that got away (as my love-struck hubs went running for the net he forgot in the car), because that seems to be a reoccurring theme in my trout fishing adventures. But trust me, it was huge.
As we quickly come upon another Memorial Day this month, my husband and I will also be celebrating another year of marriage, which always make the weekend special. Sometimes it doesn't quite fall on our anniversary, but it's usually somewhere close. The very best thing about it being a holiday weekend (other than honoring the men and women whom have served our country) is that we often get to take a short trip to celebrate. (That and it helps me remember that I better buy a gift and card for the special man in my life. Sometimes, I can be such a guy.)
*****
If you want to read more of the fun, here are links to all the sites now featuring Secret Subject Swap posts. Sit back, grab a cup, and check them all out. See you there: