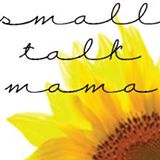 They say you can't go home again, but I've never put much merit in that old adage. After all, I go home. . . all the time. Of course, it's not quite the same — I'm older, family members are absent and most things don't look as they did way back when (except my bedroom, which is a completely different topic), but it's still home and it's a good place to be.
That being said, I gotta tell ya, I've been seriously missing my bloggy home at Small Talk Mama. After the complete crash last fall, throwing in the white towel and dabbling in a new blogging venture for a few months, I just kept thinking of my home [page] and have decided to return.
No, it won't quite be the same — posts have been lost, comments obliterated, my focus has shifted a bit and I'm rebuilding from almost scratch — but with all these changes there is still enough of Small Talk Mama, with it's bright yellow sunflower, warm orange colors and a focus on family, to keep calling it home. I'm doing a bit of spring cleaning and rearranging to the old girl but her essence is still the same, so I hope you agree that Small Talk Mama is still a good place to be.