Let's talk clean houses today. I know, I know; it's not a favorite topic among most moms, but it's one of those things we all have to face. As a mother who often has a little one under foot on cleaning day, I really do need something that gets the job done quickly and without filling the atmosphere with loads of harmful fumes and tons of yucky toxins
So when e-cloth offered a chance to sample one of their many products, I raised my rubber-laden, anti-dishwater gloved hand right away. I was thrilled, and slightly overwhelmed by the array of products e-cloth offers, but I finally settled on the Universal Stone with applicator set from their website at www.ecloth.com. I was so excited to put this product through its paces that I started (with bare hands) in the kitchen and worked my way to the master bath. I cleaned my stove top, my stainless steel sink, a filthy copper-bottom pot and even the fiberglass basin in my shower. With the Universal Stone and some elbow grease all these surfaces easily came clean without fumigating my home.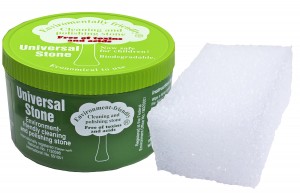 The Universal Stone is a natural way to restore a shine to metallic surfaces and clean any smooth surface without harsh chemicals. The cleaning agent is made from natural ingredients including soap flakes, green soap, vegetable oils, glycerin, polishing clay earth, and natural perfume oils (citronella). Universal Stone is free from toxins and acids and is fully biodegradable, environmentally friendly, phosphor-free and kind to the skin. This makes the Universal Stone child and pet friendly as well as non-allergenic. This non-abrasive product, cleans, polishes and preserves all in one step and can be used on chromium, stainless steel, aluminum, silver, gold, copper, brass, tin, enamel, glass, acrylic plastic, crystal, plastic, painted wood, ceramics, etc. You should have seen the gunk that came off my copper pot — yuck!
Of course e-cloth also offers other environmentally-friendly cleaning products like general purpose cloths that clean with just water, mops, dusters and body towels. They also offer specialty products for electronics, automobiles and pets. You can shop their entire line of products at www.ecloth.com and join their e-mail list to receive the latest product and promotional information. Please note that if you join the e-cloth mailing list they will only send promotional emails a couple of times a month and you can opt out at any time. They also do not sell email addresses. You can also friend, follow and visit them at one of their social media sites listed below.
But as a special treat, e-cloth and Small Talk Mama have teamed up to offer one reader the perfect opportunity to try the Universal Stone for free. That's right, e-cloth is giving a way the same product I received, the Universal Stone with applicator (a $39.99 value), to one lucky person. It's easy to enter by using the form at the bottom of this post, but be sure to do so by May 9, 2015.
I can't wait to see who will win this great "green" cleaning product from e-cloth, so enter today!
Web: www.ecloth.com
Facebook: www.facebook.com/eclothUSA
Twitter: @ecloth
Pinterest: www.pinterest.com/eclothUSA
Instagram: @eclothUSA
Youtube: http://www.youtube.com/eclothCleaning