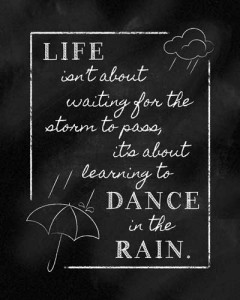 Well, it's raining. . . again. The poor Midwest has seen so many clouds this past month that we're all begging for just a few dry days and a little bit of sunshine — myself and my water-logged garden included. Of course as I was cursing the clouds this morning and rearranging my son's Thomas track yet again, one of my favorite quotes popped into my head.
"Life isn't about waiting for the storm to pass, it's about learning to dance in the rain."
While my current circumstances may not be quite what the anonymous author intended, it did make me smile a bit and reminded me that at least I'm not living through a drought like the folks in California.
If you would like to print your own chalkboard quote, you can download an 8×10 pdf file here. If you are interested in an 11×14 file, please e-mail me at [email protected]
This is my own design so feel free to print it for personal use, but please be kind and don't use it commercially without my permission. Thanks and enjoy.