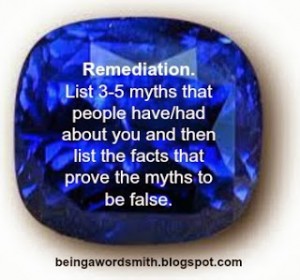 Today I am revealing some of my deep dark secrets. . . or at least dispelling a few myths from my past for Being a Wordsmith's Even Day Challenge. It's kind of fun to think about the ways I might have been misjudged in the past, or even recently, and set the story straight.
Your family must have lots of money.
It seems that because my family took some great vacations most years, my childhood friends thought we must be loaded. Eh, wrong. My Dad worked for American Airlines until he passed away a few years ago, so I grew up flying standby and spending hours waiting for flights in airports. Yes, we went to some great places, including Hawaii (more than once), France, California and Florida, but it was cheaper than taking a road trip would have been. Hotels, food and entertainment were costly, as most folks know, but family vacations were just something my parents felt were very important and worth the price.
You must be girly because you're so small.
Nope, this one's false also. It's true I weighed 98 lbs soaking wet when I graduated high school (oh, if only those were the days), but I was a tomboy my whole life. I played sports of all sorts, fished with my Dad, chased calves around rodeo arenas and had the best Hot Wheels collection on the block (my friend, Carla had the second best). True, I enjoyed my Barbies, playing school, cheerleading and wearing makeup too, but I could hold my own against girls (and some boys) twice my size.
You're a Christian, so you probably don't have much fun.
This one is way off the mark! While I wouldn't call myself an adrenaline junky, I do like a good rush. From zip lining, white water rafting, and driving fast cars, I love to experience the things in life that get my heart pumping (hubba hubba). I even enjoy, shhh don't tell anyone, a good night of dancing my little legs right on off. While my dancing days don't happen very often with marriage and mommyhood, I do shake my groove thing around the house whenever I get the chance (so what if it's to the Bubble Guppies rendition of "Poker Face"). Now, I consider that a good time!
Related posts:
Tagged: life